Why Should You Localize Your Content in the Thai Market?
Thailand is an ideal destination for many global companies seeking global success as it is the second-largest economy in South East Asia, with well-enforced laws and a stable economic growth rate. The list of advantages of operating business in the Thai market goes on.
Here's our list of top 5 reasons why you should enter the Thai market and localize your content into the Thai language.
1. The Thai market – The Gateway to Asia
Thailand is located in a strategic location, right in the heart of ASEAN where numerous emerging markets are. The Thai market is an ideal place for foreign companies and investors to establish an office as they can easily get access to a market of over 640 million consumers in China, India, and ASEAN countries. Thailand is considered the gateway to Asia.
Besides offering convenient trades with Asian countries, Thailand has also remained a good economic relationship with many European countries. Located in Bangkok – the capital of Thailand, The European Association for Business and Commerce (EABC) helps improve the cooperation opportunities between Thai and European countries while enhancing the European trade and investment in this market, making it easier for companies from Thailand and Europe to cooperate.
2. Fast-Growing Economy
Thailand is one of the most fast-growing economies in Asia. It is also the second-largest economy in ASEAN (just after Indonesia). The Thai economy is char The second-largest economy in ASEAN after Indonesia. The domestic consumer market, steady growth, and strong exports are three desirable characteristics of the Thai market.
In recent years, Thailand has witnessed continuous growth in the country's GDP and expected to be in the range of 3.5 to 4.5% in 2019. Forbes also listed Thailand as the 8th best-emerging market of 2020. The number speaks for itself, the Thai market has huge room for growth, making it a potential market for your company to explore.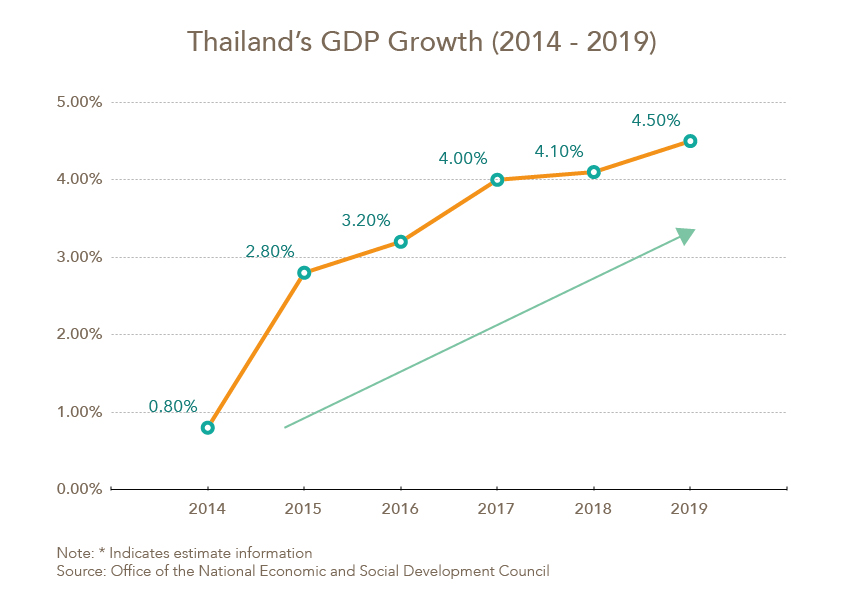 3. A pool of skilled workforce
With a population of over 66 million people, about 71% of which is in working-age (from 15 to 64 years old), the Thai market owns a huge cost-efficient workforce for economic development. A growing number of Thai manpower are well-educated with high skills and qualifications, making them more competitive in the job market. What's more, Thailand has a friendly and encouraging visa policy for foreign workers. If your company conducts business in the Thai market, you can easily take advantage of the pool of skilled labour at quite cheap salaries.
4. Reasonable Taxation and Incentives for Foreign Investors
A big advantage of operating a business in the Thai market is its reasonable corporate tax applied to foreign companies. Based on the profit the company made, the tax might range from 10% to 30%.
The Thailand Board of Investments (BOI) – a governmental agency of Thailand aimed at promoting investment activities in the Thai market offers foreign investors a vast number of tax incentives, along with import duty exemptions or reductions for numerous activities.
Companies that receive investment promotion privileges from BOI can enjoy the tax incentives below:
Reductions or exemptions from import duties on machinery;

Lessening of import obligations for crude or key materials;

Exclusions from corporate wage assessment and profits;

A 50% decrease in corporate salary charge;

Twofold derivations for transportation, power and water supply costs;

Additionally 25 percent deduction on expenses for construction or installation of facilities

Exemptions on import duties on essential or raw materials used in production for export purposes.
It is also possible for foreign companies to obtain long-term visas or work permits within 3 hours thanks to the coordination between BOI and the One-Stop Service Centre for Visas and Work Permits.
5. Big language and culture barriers
According to the EF English Proficiency Index, Thailand was ranked 89 out of 100 countries surveyed with 419. This score is considered "Very low proficiency". That means if your company only uses English on your online presence or business documents, you might not reach as many audiences in the Thai market as you expected. Also, within the companies, while upper mid-top managers might be fluent in English, the rest might speak Thai only, making it quite challenging for your company to communicate freely. Needless to say, translating and localizing your content and important documents into the Thai language should be placed in high priority.
Besides the language barrier, the rich culture of Thailand people might be a big obstacle for companies when entering the Thai market. The Thai population consists of a variety of different ethnic minorities including Cambodia, Lao, Indian, and Chinese people. On the one hand, the diverse demographic of the Thai market creates a huge advantage for foreign businesses with numerous groups of potential audiences. On the other hand, it poses a great threat if these companies do not pay attention to the cultural factor. For example, your companies will encounter various work ethics and styles when establishing business relationships or cultural conflicts while promoting a product.
What you need is to research the country's linguistic and behavioral specifics carefully. This is where you can use the help of localization professionals with deep knowledge about the Thai market and long experience in the localization industry.
As a regional translation agency, GTE Localize provides comprehensive Thai translation services that bring you closer to Thai audiences. If you have any questions about this potential market or want a free quote for your Thai localization project, contact our localization consultants for more information.